In the evergreen world of affiliate marketing, sites built from aged domains are undeniably thriving.
Just take it or leave it!
Recently, we tried to analyze one of the most lucrative niches in the health space and guess what?
After every two weeks, we're seeing young affiliate sites built from aged domains ranking on top and cashing in massive commissions, nonstop.
But that's not all.
If you will try to analyze other competitive niches in the most profitable industries, you will also see them dominating.
Because for as long as you know how to do it the right way, you can also get massive results like these.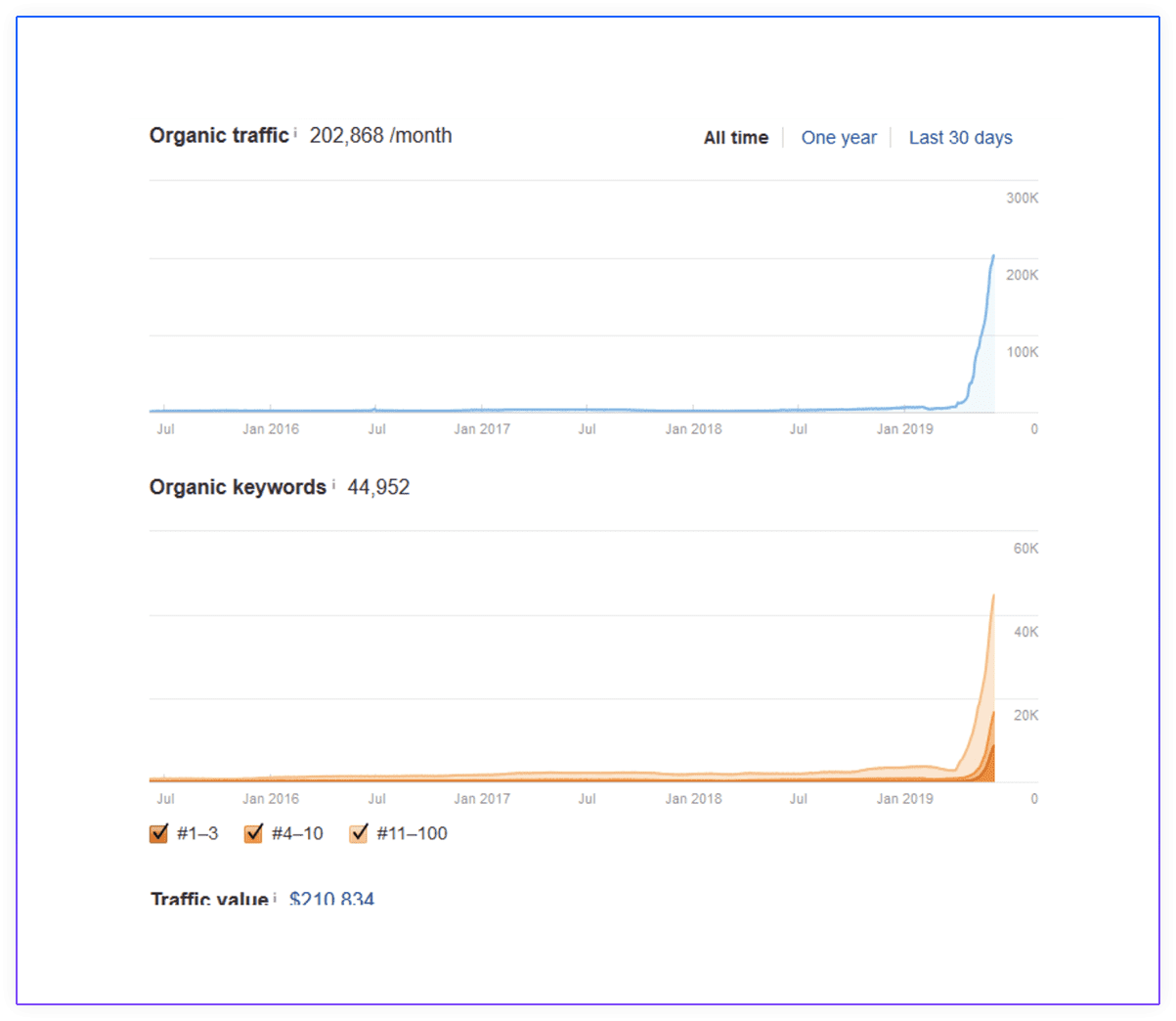 Site built from an aged domain (Secret Strategy #1)
Site built from an aged domain (Secret Strategy #2)
And today we're going to discuss in detail these strategies, experienced affiliate marketers also use to get massive successes.
Brace yourself as we buckle down a 30,000-foot overview of the most elusive topic in the affiliate space - the aged domain strategy.
Introduction
Aged domain is all over the affiliate space.
You keep hearing good and bad things about it but you can't seem to find a perfect place to check it out.
● Is it safe?
● Is it really effective?
● How can I use it successfully?
● And blah blah blah...
Don't worry.
With the help of this one-stop guide, you'll finally get a good grasp of everything about aged domain.
Here's the deal.
If you're like other affiliate marketers I know who gave up on a fresh new domain as it takes a lifetime before ranking on SERP, or worst requires hefty investment for much longer ROI, then the secret strategy I'm about to share is definitely for you.
Actually, this strategy is a tried and trusted technique my very own clients are replicating to get faster and safer affiliate success.
Why not if it means...
● Lesser dwell time on the "sandbox period" or none at all in extremely rare cases
● Chances to rank for commercial "money" keywords even without link building effort done yet
● Quicker results and faster ROI in the most profitable and evergreen niches in the market
Sound interesting, huh?
But before that, I want you to first understand the foundation of aged domains.
What are they? What are those confusing terminologies? Are they even related? Why do affiliate marketers use them? And what are those never-ending myths people still believe in up until now?
Right after that, we'll dive straight into the most intriguing part, the three powerful aged domain uses in the affiliate space.
I know for sure you're already familiar with the 301 redirection strategy. Tried it or not, either way, you'll love my guide on how to use it with all the itsy-bitsy details.
Now, you might be wondering about the 301 Rebranding and The Rebirth Technique, don't you? Well, those are strategies I coined for easier recall.
While the name itself is pretty much intriguing, I'm sure you're more than curious on the process behind and its hidden superpowers, but more on that later 😉
First things first, let's start with the basics!
Part 1: The Bedrock of a Solid Aged Domain Understanding
"You can't build a great building on a weak foundation" -Gordon B. Hinckley
Same with an aged domain.
You can't build a great affiliate success on a foundation of sand.
One must have a solid aged domain understanding to build or rebuild affiliate success anytime he wants.
Now, you'll have it!
What are Aged Domains?
Out of millions upon millions of registered domains, more than 150,000 of them expire daily.
These are domains that were registered by individuals, businesses, or organizations but for some reason were not renewed and becomes available for re-registration.
While there are lots of reasons for this, the most common ones are inactivity, say for example they didn't manage the content regularly or change of business as they decided to move on to other projects.
Some people call it expired, dropped, non-dropped, and auction domain.
Let me discuss it in detail.
Confusing Terminologies Explained
When you say aged domains these are domains that were live continuously since they were first registered. They never got dropped in the past hence also known as non-dropped domains.
Both of them never went to a drop list neither got deleted by the registrar to make it available for normal registration price again.
Dropped domains are domains dropped from the registry and went to a drop list. Auctioned domains, on one hand, are those domains that are caught in auctions.
Don't freak out!
All of these are aged domains which you can still use anyway. Yep, even those previously dropped domains in the past. And I'll tell you why in a bit.
For now, I want you to know why SEO affiliate marketers buy domain that aged already. Is it still valuable when in fact the webmaster ignored to register it again?
For someone who knows SEO well, these (incredibly good) aged domains are gold covered with mud.
Here's why.
Why Do SEO Affiliate Marketers Use Aged Domains?
It's simple.
Google loves authority sites! It rewards them with a better ranking on SERP. And for Google to perceive a site as an authority, it looks on three vital factors:
(1) Authority Backlinks
(2) Relevant Contents and
(3) Age
Aged domain is gaining more and more popularity than a fresh new domain because it has them all intact.
No doubts it lessens the "sandbox period" and it saves you a whole lot of time, money, and effort.
A seasoned affiliate marketers understand it so well that they're becoming insanely competitive in getting their hands on such domains.
Who would not if they already experienced firsthand what a powerful aged domain can do? What do you think?
To help you understand more about how it works, think of it like this:
John loves sight-seeing with nature. Fifteen years ago, he noticed people were abusing the environment so he established an organization.

He wanted to raise awareness to save Mother Nature and built a website to spread the cause globally.

It got featured in prominent news and editorial sites worldwide. In short, it went viral.

Unfortunately, after 5 years this awareness campaign slowly faded off. People were no longer interested until John decided not to continue this anymore.

Just like this, aged domain is the established website in the story and the news and editorial features are the backlinks.
When one SEO affiliate marketer finds this established aged domain, he'd surely get this one and build a niche site related to its previous content.
Aside from its age factor, it has in it those clean, strong backlinks that help in ranking way higher and faster than a fresh new domain.
That's basically how it works. The concept is really that simple.
Sadly, affiliate people are heavily misguided by the SEOs who don't know much about aged domain and make people believe on their self-created theories.
So I guess it's time to unlearn all those myths and relearn the truth before we dive straight into the actual strategies.
The Myths About Aged Domain Debunked
Admit it. Nowhere you can't find an exclusive guide about aged domain for affiliate marketing.
Either they are all related to trashy PBNs or just no one from the experienced affiliate marketers (with success on this strategy) will talk about it in detail.
Agreed?
Hence we're all bombarded with an outdated, misleading and confusing piece of information about it.
But let's clear this out once and for all, shall we?
Here's my take on it.
1. Using aged domain is not safe. It's only meant for churn and burn
Aged domain in itself is safe just like any other fresh domain.
Unfortunately, its SEO value is heavily exploited in the blackhat world and thus having this extremely bad image.
But in reality, there's a handful of people who know how to leverage aged domain for long-term success. They just don't talk about it openly.
So it really depends upon the user's ulterior motive.
It only becomes risky of penalties once it is used for spammy link building or churn and burn techniques. Treat it like a real website and you're good to go.
Huh, you wish!
These days, you can't just pick any aged domain out there. If by chance you use a penalized domain with toxic links, worse luck.
With the rise of misleading metrics of choosing an aged domain in the affiliate space, qualifying a really good domain is exceptionally challenging and time-consuming these days.
Let's discuss more of it.
2. The myths of metrics
One of the biggest myths we have right now is this.
"The use of Domain Authority (DA), Page Authority (PA), as well as Trust Flow (TF) and Citation Flow (CF) is the only factors to determine the true quality of an aged domain."
Let me explain why.
Domain Authority (DA) and Page Authority (PA) were brought to the table by a private company called MOZ. Trust Flow (TF) and Citation Flow (CF), on the other hand, were brought by Majestic.
But these metrics were only useful back in the days when Google was not as smart as today.
Back then, it's a lot easier to trick Google's algorithm making these metrics so reliable.
Right now, the game has changed so well with the SEO strategy. Google's algorithm became a lot complicated.
Then came the myth about...
Choosing higher DR metrics from Ahrefs is a must.
How about I show you this?

(Aged domain thriving on extremely competitive health niche)
And this?

They are both affiliate sites built from an aged domain with lower DR and yet still performing that great.
Oh, it's from different niches by the way.
For me, the quality of the domain isn't entirely dependent upon DR as it's an Ahrefs metric.
So what metrics should you use, instead?
Stick with what Google loves!

● Authority Backlinks
A solid backlink profile coming from well-known editorial/news sites or high authority and closely niche related websites.

● Topical Relevancy
As much a possible, be consistent with the previous content of the aged domain. Stay with super relevant and closely related niche.

● Age factor
There are no rules as to how old it should be but the older the domain, the better and make sure its history is not spammy.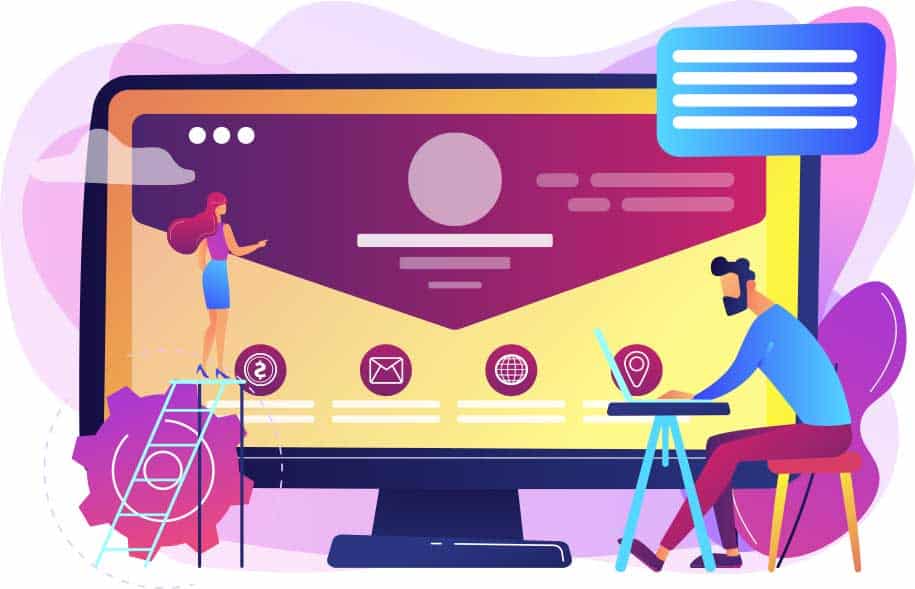 Now, if you want to check the previous contents of an aged domain, place the link of aged domain here: https://web.archive.org/.
You can also do it when you assess the backlinks.
My takeaway: These 3 essential metrics must coincide with each other. They are related. But the most important amongst them is the backlinks. Age and relevant content add quality to the domain but backlinks are the backbone that holds them all together.
3. Aged domain is not safe because of its trademark
Firstoff, you can check the trademark here.
Based on my personal experience of using an aged domain for years, most of the time, its trademark is either expired or canceled already.
Now, there are cases where you'll find aged domains with the live trademark. Either the business has changed its brand or went bankrupt already.
Now what?
If the aged domain has a live trademark but the business had shut down already, you can use this domain as a money site or 301 acquisition if you want the safest approach. You decide!
But the domain has a live trademark and the business still exists, I recommend using it for 301 acquisition for slight risk of copyright issue. But if you feel the risk is worth it, you can use it as a money site, too! You decide!
4. A dropped domain loses its SEO value
Never!
The dropped record doesn't determine the quality of domains because reasonably, it only ages when dropped. Did it lose its backlinks? Of course, not!
Let me tell you the backstory.
A few years ago, people were not into buying an aged domain that's why during those times, many good domains were dropped, available for registration price, and anyone can register them manually.
But it doesn't necessarily mean it's bad. It wasn't just caught before so it got dropped. Heck, even good domains from auction or drop catch might have a dropped history.
Today, due to the aggressively growing competition, finding a good quality domain in the dropped list is next to impossible. They either get caught already by auction bidders or drop catchers.
Take a look at these screenshots.


This is an aged domain which was dropped in the past. Do you think it's worth it? You decide!
5. Previously redirected aged domains can't be used anymore
You already learned that dropped domains never lose their SEO value.
Now, let's clarify whether previously redirected aged domains can still be used or not because I've been receiving a lot of inquiries about it. They think that redirected domain lose its link juice.
Again, link juice of the aged domain comes from its strong backlinks and if you will see redirected domain with great backlinks then it's all worth it to use.
Take this simple example to answer this question.
Assuming you own a company and you built your website ABC.com for online exposure.
A few years later you decided to change your domain name into XYZ.com and redirected your previous website to this new domain.
As expected, ABC.com expired.
But here's the most common misconception people think about this, once the domain had been redirected previously, the link juice is also gone.
They think Google resets this dropped domain and its authority backlinks are never valid anymore.
This isn't true at all.
See these screenshots.

It's an aged domain which was dropped three times and even redirected in the past. Cool!
Because for all you know, there are only two possible cases why dropped domain is being redirected in the past.
It's either (1) company changes their domain names, or (2) someone intentionally redirected them to the money site.
Keep in mind that in BOTH cases, they can still be used for as long as it has strong backlinks and it was not redirected to churn and burn site to avoid a higher risk of existing penalty.
6. Aged domain magically remove the "sandbox period"
Well, it's not!
By analyzing few of the high-powered domains in the health space, (plus our clients' affiliate sites) we noticed that usually, an aged domain take at least three months minimum and five months maximum to show it's full potential.
Rarely you will see a site that picked up immediately within its first month (except to extremely rare cases).
But mind you, when it picks up the rankings, it surely gets a real quick boost than any fresh new domain because of its solid backlink profile.
More than the sandbox effect, we consider this as the "recognition period" where Google takes the time to understand the new domain content and topic.
Nice to remember: The closer the niche, the lesser the time Google needs to recognize a site.
Say, for instance, the aged domain was once a tech company under a tech niche and if the new webmaster decided to niche down to drones then Google won't immediately rank it because it's somewhat different from the original one.
But if he stays consistent on posting articles related to drones then Google will start to recognize this site as something relevant to drones. Once that happens, it will give more priority to queries related to drones.
The same goes to an authority site in Keto. If the owner somehow decided to expand his site in Paleo or CrossFit then Google will not prioritize the site right away. The owner needs to keep posting Paleo or CrossFit related topic for higher chances of recognition later on.
Again, this "recognition period" is based on the data we gathered from our clients and other successful sites.
7. Aged domain can be used on irrelevant niche
The short answer is yes but this is a strategy that I won't ever recommend you doing.
We've seen sites churning in using this technique and then burning after just a few months.
While you can use aged domain on a slightly irrelevant niche, still I'd recommend that you stay closer as possible to the previous niche to last longer on SERP.
This is what will happen when someone uses an aged domain on an extremely irrelevant niche (based on our observation).
Because of the backlink power and the age factor of an aged domain, Google will still rank this site real quick once it recognizes the new niche.
However, it's still in the red zone. Google can devalue those SEO factors because of entirely different links and their topical relevance. And the risk of unnatural link penalty? Not worth it.
In the end, the closer the niche, the better.
8. Aged domain is not indexed or got deindexed because of Google penalty
Not in all cases.
Aged domain has only been deindexed because of inactivity for some time. As soon as you make it live with contents, it will be indexed for sure.
About the penalty record, you can only see it through Google search console but more or less if you will check its backlinks, Wayback content, and anchors thoroughly, there's less than 1% chance of having penalty.
9. You can't use English domains for foreign language sites/purpose
This is something people get confused about.
They think English domains (say the generic top-level domains like .com, .net, .org) can't be used for foreign language sites or purpose (say for the country code top-level domains like .de, .uk, .fr, etc).
You can! Although you have to use it with a certain condition.
Google is smart enough to understand different languages and to translate webpages. But, topical relevancy must be taken into consideration.
Our client did this before on a French site and it worked. Just take a look at his site.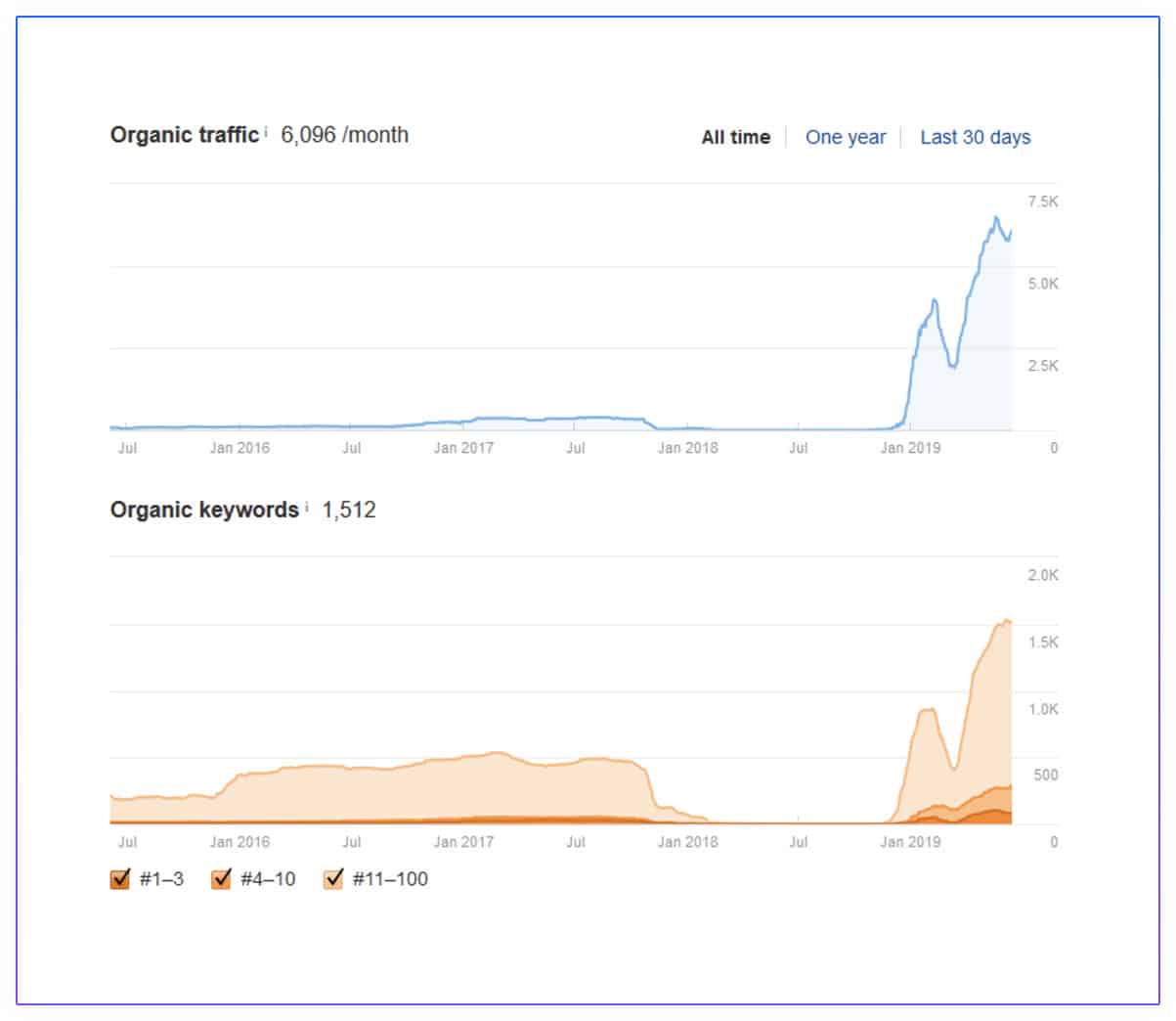 Myths busted out! What's next?
Where to Find Aged Domain with Potential
Registrars put hundreds of thousands of aged domains every day to either auction or drop list. This is where you can find them.
According to popular registrars, here is their process...
If a domain expires, they will put it in an auction for a certain amount of time. If that domain wasn't sold, it would go to a drop list.
Take note, there are some registrars that let their domains drop directly without going into auctions. This is where the drop-catching comes into play.
Drop-catching is the practice of registering a domain name once registration has lapsed immediately after dropping. People register a domain as soon as it drops. When I say soon, we're talking about less than 0.1 seconds.
With that said, it's safe to say you have a higher chance of finding a potential aged domain on auctions and through drop-catching than on the drop list itself.
This is the reason why finding an aged domain with TRUE potential is a pain in the ass. You must really have chunks of patience because it's insanely competitive not to mention the amount of time it requires from qualifying and buying an aged domain.
Heck, out of 150,000+ domains expiring daily, SerpNames can only get 3-4 high-quality domains out of it.
Now, if you don't have the time to do it yourself, check out our aged domain inventory, select your best pick and work on it right away.
Yep. They are all perfect for money sites under the most lucrative niches, with strong backlinks from giant relevant sites, and brandable names.
But if you want much quicker way than this, you might also love our domain reporting the way our clients love them.
Most of our clients are portfolio managers and sophisticated affiliate marketers who value time and money.
And they prefer receiving a PDF report of new domains from us along with their strategic plan for monetization (which we also send out to our email list).
That quick! No more researching as to the profitability and monetization strategies needed. They just check the domain and select their best pick.
So we're done with the basics. I guess it's time to spill the beans 😉
Ready?
Part 2: Three Powerful Aged Domain Strategies in the Affiliate Space
I always get queries about aged domain strategies. Like daily!
But you know what's the best part of it?
It's sharing my knowledge and seeing people really appreciate it.
See one of the lovely emails I received recently.
Indeed another soul has been saved from eternal guesswork and confusion.
This is exactly why I made this one-stop guide.
To show you the exact process of how my clients get satisfying results like these: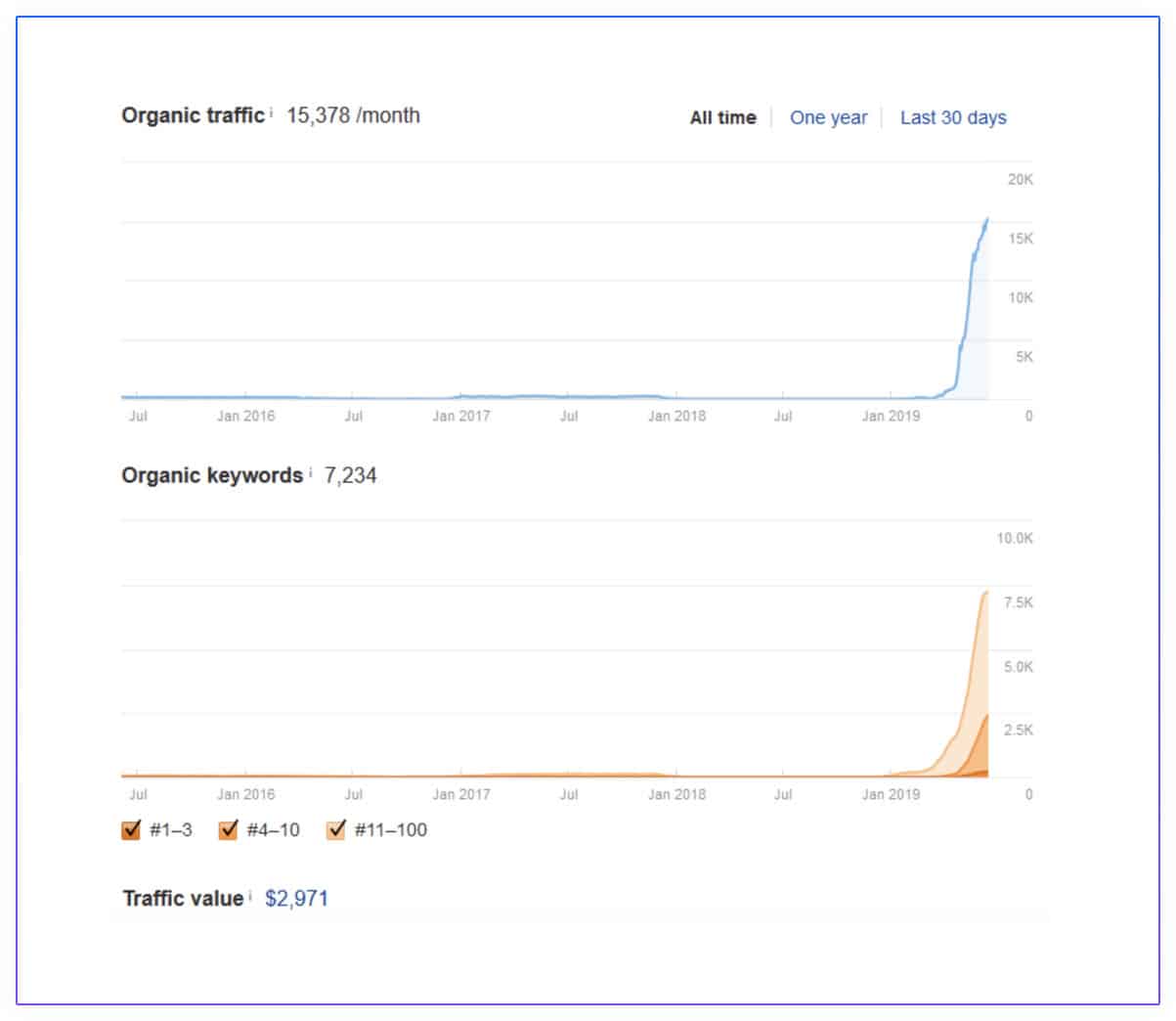 Remarkable results in a shorter period of time and higher success rates. Beautiful!
That's also what I want you to achieve.
And today, you'll finally see the strategy.
(1) 301 Redirection
This is by far the most familiar use of aged domain, isn't it?
Affiliate marketers use 301 redirection strategy to boost its ranking by transferring all the link juice of the aged domain to their existing site.
Usually, they first live the aged domain with relevant content and then let it sit for at least two months before doing a redirection.
But before trying this strategy, bear this in mind:
Always choose an aged domain with high-quality backlinks only
Make sure the domain you will use is highly relevant and
Existing niche site passed the manual review (i.e. has quality content and healthy statistics)
Actually, you must first analyze aged domain lost pages before doing a 301 redirection. Upon checking them all, there are two techniques you can use for those pages.
1.1 The Pillar Page
You can make the most out of aged domain by redirecting it to a highly relevant pillar page. Of course, topical relevancy plays an important role here to get satisfying results.
Let's say you have a pillar page with "Best Cameras", to boost its ranking, find a strong domain in Cameras & Photography and redirect its homepage and all other pages to that pillar page.
It will surely help in transferring all its link juice to the entire site through that Pillar page and this is the best strategy you can apply using 301 redirection.
1.2 Category Mode
In case you don't have a pillar page on your website, what you can do is find a highly relevant aged domain and redirect its homepage and all the other inner pages to your category page.
For example, if your site is about fitness, under your site's weight loss category, find a strong aged domain (in the weight loss niche only) and redirect its link juice to your weight loss category page.
This way you can transfer all the link juice to that page alone.
Rule of thumb: If you don't have a pillar page, redirect a highly relevant aged domain to your category page.
There you go.
I just showed you a surefire way to get the most out of the aged domain link juice.
That's it for 301 redirection.
My Takeaway: We din't recommend redirection to the homepage because of topical relevancy concern. Usually, homepage will be quite broad and we don't want to ignore topical relevancy just for the sake of the aged domain link juice.
By the way, 301 redirection doesn't give that much result compared to using it directly as a niche site.
Honestly, I'd only recommend you do this once your keywords are already ranking on the second to third pages and just need a little push to hit the first page.
(2) 301 Rebranding
While this might sound new to you, 301 rebranding is also part of a redirection strategy in general. It only differs on how the redirection process is done.
If a powerful aged domain can boost your existing niche site's ranking through a single chain 301 redirection, 301 rebranding does the opposite.
Do you have an existing niche site that's sitting for a year now and ranking for thousands of organic keywords but still stuck on second to third page? It's time to scale now. Find an extremely powerful and brandable aged domain and redirect your existing site to it. That's rebranding!
Why not? If you can get a monstrous result like this.
It's crazy!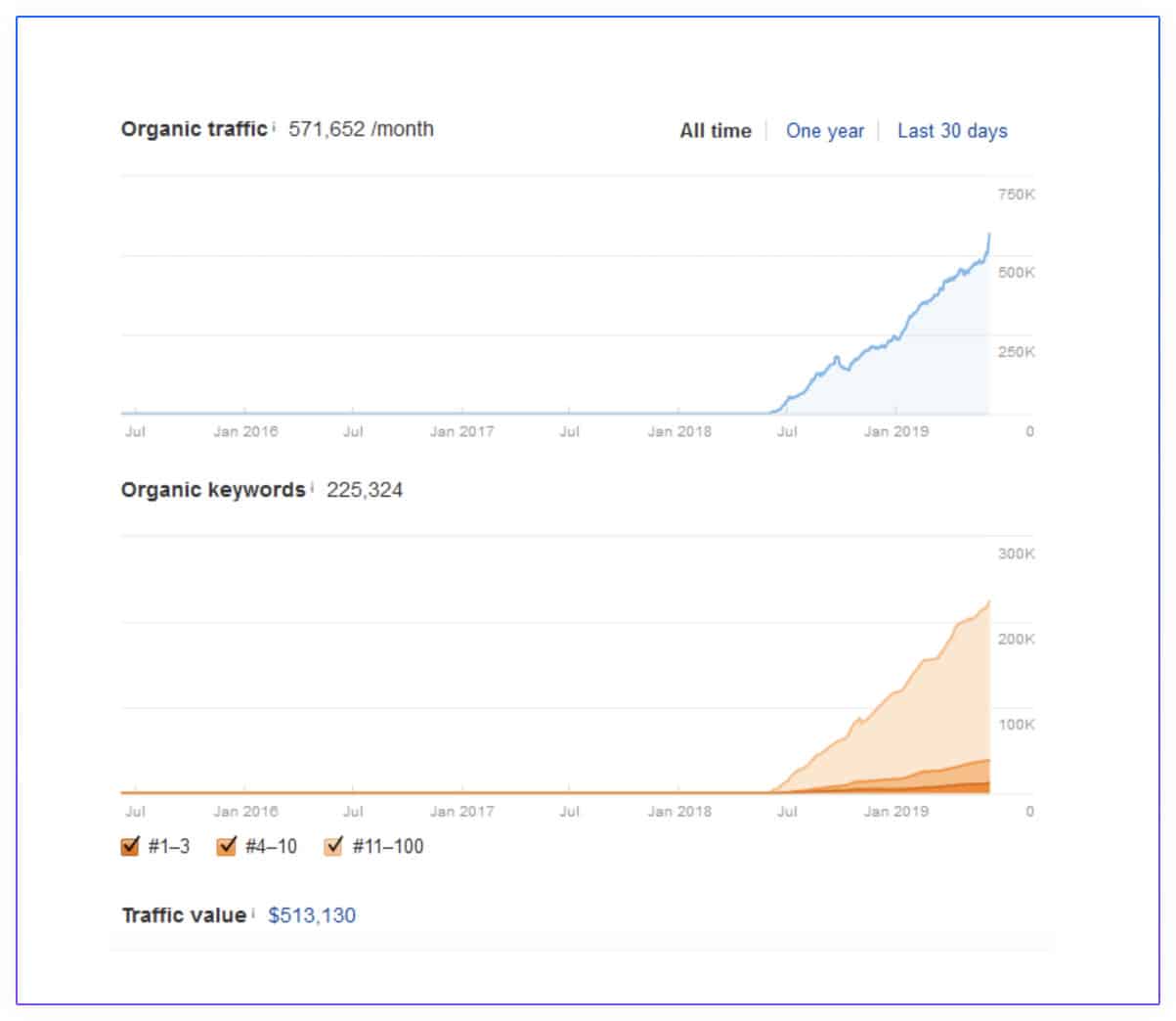 If you haven't got your exclusive PDF copy yet, download it now and see how we helped one affiliate marketer get up to 13X more traffic and 20X more earnings within short two months using 301 Rebranding.
Hint: This affiliate marketer was able to flip this newly rebranded site to half a million dollar mark within just a year
(3) The Rebirth Technique
You know it.
Affiliate marketers are getting insane on building a niche site on an aged domain.
Perhaps because of results like this?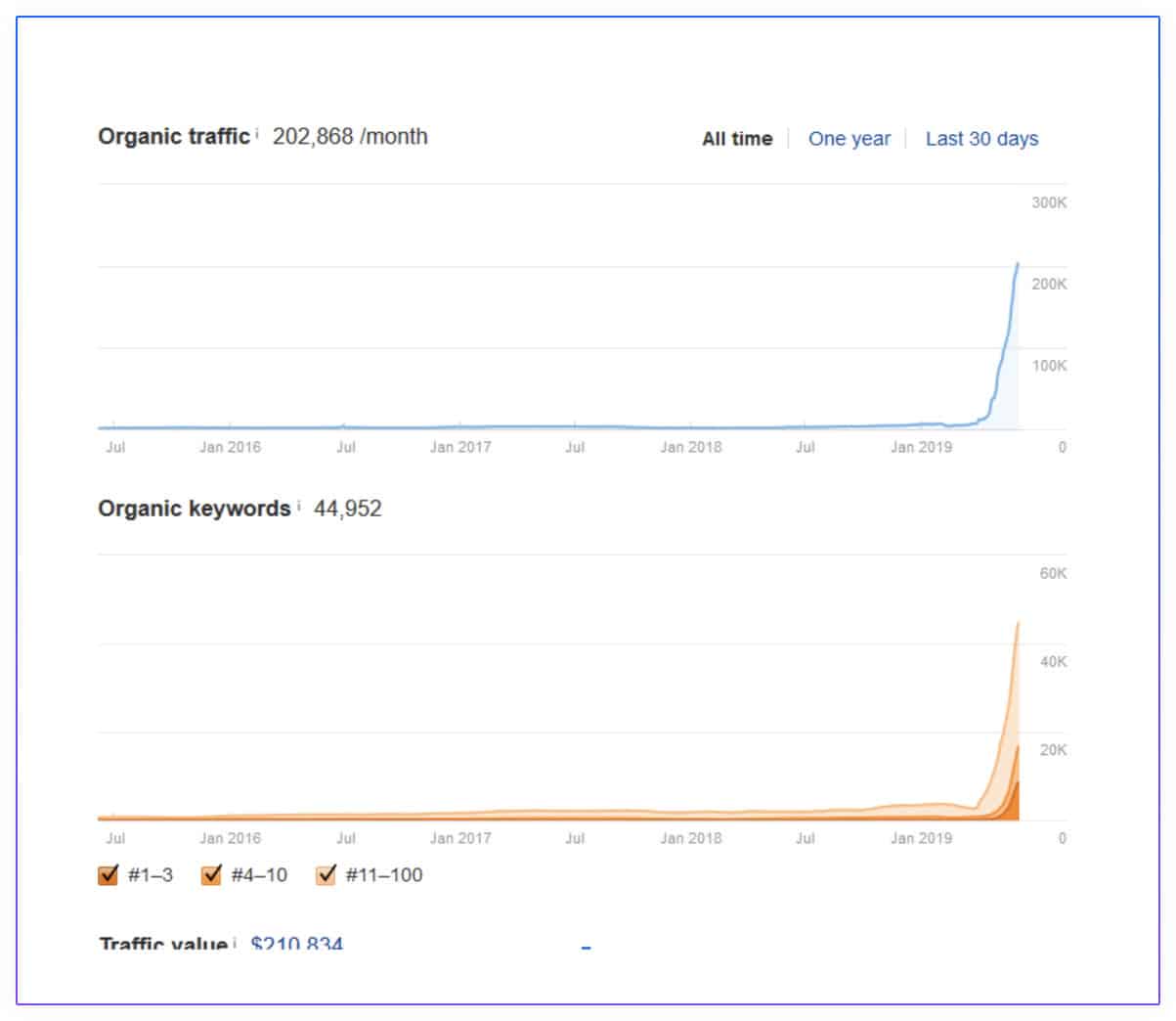 What do you think?
They also want to try this strategy hoping that it will work successfully.
Unfortunately, there are people who tried this already but didn't yield satisfying results or worst were penalized as hell.
But how do you know if an aged domain is going to rank or not, anyway?
Besides having strong backlinks and clean history as I've mentioned, you need to work on it. Don't expect first page rankings without doing anything in the first place. Be patient and don't overestimate aged domain.
And most especially, you need a game plan, The Rebirth Technique.
The Strategy
To increase your success rate (90%+) of using an aged domain, here are the most important factors you need to consider:
1. Strong backlinks
2. Topical relevancy
3. Single loop redirection & recovery of the pages
4. Content Focus
Now let me tell you what to do with them to get the most out of this strategy.
1. Strong Backlinks
I personally recommend to pay close attention to the backlinks of the aged domain and to make sure they're coming from high authority sites as it really gives a quick real boost in ranking.
No questions with that!
You can set aside tedious link building tasks while you're just starting out and you can focus entirely to your content strategy for the first 3-6 months of your site. Nice!
2. Topical Relevancy
When it comes to choosing what niche to focus on, stick with super relevant and closely related niche. Always!
So to help you decide clearly, I prepared three niche relevant factors when deciding what to do with an aged domain.
● Super relevant niche (Highly recommended)
Let's say the aged domain was a site about "weight loss" specifically, then use this as an affiliate site for products like weight loss supplements for maximum results.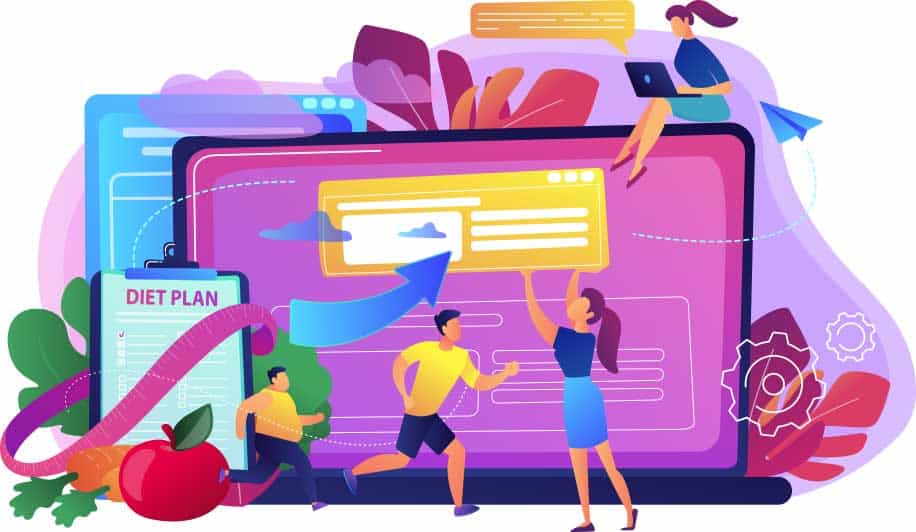 ● Closely related niche (Recommended)
If the aged domain was about "fitness" in general, and it has branded and naked URLs then you can still go on promoting weight loss supplements here. Branded and naked anchors shows that the site has no specific topic links and will still work even if you change the topic from fitness to weight loss.

● Non-relevant niche (Not recommended)
If the aged domain was a tribal organization and you will use it to promote weight loss supplements, you're rooting for short-term success as you're still in the red zone here.

3. Single Loop Redirection & Recovery of the Pages
SerpNames always recommends to recover the highly relevant pages of the aged domain (relevant enough to do internal linking naturally), rewrite the content to avoid issues like plagiarism or bad quality content, and redirect those URLs that are irrelevant and can't be recovered easily because of URL extension like .gif, .php, .png, .html etc. with a single loop redirection through htaccess file.
For example:
If lost url is "http://www.domain.com/blog/link-to-old-url" and you want to redirect it to new url, "https://domain.com/link-to-new-url" then the htaccess code will look like this.
Redirect 301 /blog/link-to-old-url /link-to-new-url
This code works only in apache and lightspeed server.
Tip: Sometimes you will encounter highly relevant pages but their extension are like html, php and aspx (windows server). In that case, you can still recover that page, rewrite the content (with no extension) and redirect the original permalink with extension to the new one through a single chain redirection.
4. Content Focus
After setting up the domain, you have to focus on your content production for the first couple of months.
Begin publishing high-quality new content every day or most frequently than ever for at least three to six months.
When you do this, you will see your keywords popping up on the top pages because of its inherent backlinks.
About your content, the strategy is simple.
Focus first on a very specific niche that is closely related to its previous content then branch out later.
After getting a decent flow of traffic and income, you can now scale out to other niches one at a time.
It's the same process my client is following to build an affiliate empire.
So that's it.
You've just learned the 30,000-foot overview of the aged domain.
Whew!
For the last part...
Conclusion
In this very aggressive world of affiliate marketing where traffic dictates your income and success, either you'll find a way or just fade away.
I already shared everything I know about aged domain. You knew all the strategies that I myself have proven to be effective, safe, and worth a try.
Will this give you a success? It's for you to decide!
I guess with this huge guide we already covered pretty much everything, I hope so!
Let me know what else is stopping you from using aged domain below 🙂